You know that wonderful flavour concoction you create when maple pancake syrup runs into and mixes with smoked bacon? Well you can have it 24/7 at Gibson's Donuts. You guessed it; this combination of breakfast flavours comes in the form of a glazed, airy doughnut topped with maple-flavoured icing and a hearty helping of chopped bacon. The sweetness of the doughnut glaze and maple icing, combined with the smoked saltiness of the bacon, will send your taste buds into a gluttonous overdrive. This is the breakfast treat you've dreamed about.
760 Mount Moriah Road, +1 901 682 8200, 
gibsonsdonuts.com
, 
facebook.com/gibsonsdonuts
. Open daily 24 hours. Maple Bacon Donut from ¢89
Dyer's Burgers – Double Double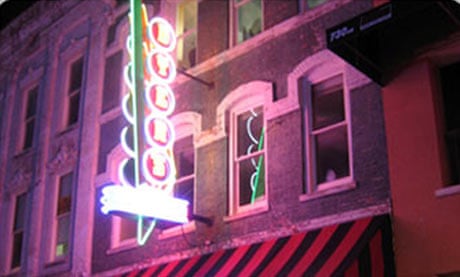 The secret is in the grease. Dyer's Burgers has been frying paper-thin burgers in the same seasoned grease recipe for 101 years – the grease is changed regularly, however. The patties are carefully scraped off a marble countertop, laid into an over-sized skillet of grease and pulled out just as they begin to float. Burgers are served as singles, doubles and triples, all with or without cheese, and garnished traditionally with a simple combination of mustard, pickles and onion. It's melted perfection on a burger bun. As Beale Street winds down late at night, that's when a Dyer's Double Double is truly at its best. As the servers' T-shirts say: "Have you had your Vitamin G?" The G is for grease.
205 Beale Street, +1 901 527 3937, dyersonbeale.com. Open daily 11am-till close. Double Double burger from $5.75
Central BBQ – BBQ Nachos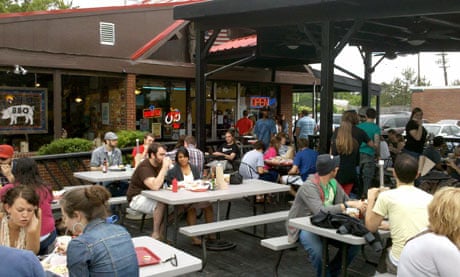 Let's not forget Memphis is land of all things barbecue! And the BBQ Nachos at Central BBQ is a dish that stands above all others. It features a generous portion of its award-winning pulled pork or chicken served on top of a bed of tortilla chips, topped with barbecue sauce, cheese sauce, shredded cheese, and jalapeños and finished with a light dusting of barbecue shake. Order it on the homemade barbecue potato chips with spicy barbecue sauce and you've exponentially elevated this dish to barbecue nirvana. This is the dish cold beer was designed to accompany.
2249 Central Avenue, +1 901 272 9377, cbqmemphis.com. Open daily 11am-9pm. BBQ Nachos $8.79
Jack Pirtle's Chicken – Steak Sandwich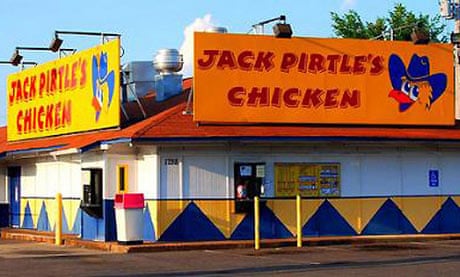 There's comfort food and then there's mouth-waterin', lip-smackin', rib-stickin' comfort food. Jack Pirtle's Chicken makes the perfect hot-meal explosion of rich flavours and textures, and they call it the Original Steak Sandwich. It's a breaded and country-fried chopped-steak patty, covered with rich homemade gravies and topped with creamy coleslaw and sliced pickles, American cheese, and served in a soft hamburger bun. Add some salty crinkle fries and a tall glass of homemade sweet tea, and you're couch bound. If you crave even more food, order Pirtle's fried chicken. It's always hot, crisp and never over-seasoned. Don't forget the biscuits and gravy! You have to get gravy! Another tip: get extra napkins.
1217 South Bellevue, +1 901 946 5824, jackpirtleschicken.com. Open Mon-Thurs 9am-11pm, Fri-Sat 9am-midnight, Sun 10am-10pm. The "Original" steak sandwich from $3.99
The Arcade Restaurant – The Elvis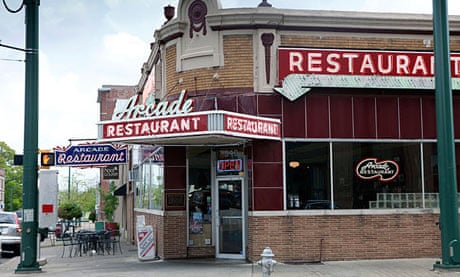 The oldest restaurant still operating in Memphis just happens to be a Greek diner that serves a dish built for a King. Yes, Elvis Presley himself was a regular patron at The Arcade Restaurant in the South Main Historic District. Right in that very location, he transformed the Fried Peanut Butter and Banana sandwich into a Memphis classic. It's made with two slices of thick Texas toast generously buttered, grilled and loaded up with chunky peanut butter and ripe banana slices. But wait, add a couple strips of smoked bacon and now you have a hearty meal that could easily be mistaken for a dessert.
540 South Main Street, + 901 526 5757, arcaderestaurant.com. Open daily 7am-3pm. The Elvis $7.95
Ching's Hotwings – Honey Extra Hot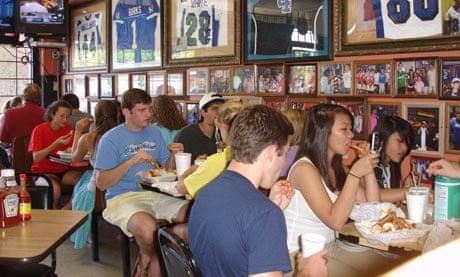 Not far from the University of Memphis is a small restaurant called Ching's Hotwings. You can always find a crowd at Ching's talking about the Memphis Tigers or Grizzlies, as well as watching a game or sports recap show on one of its many big-screen TVs. Ching's boasts all the great hotwings flavours: mild hot, extra hot, suicide, seasoned, lemon pepper, dry hot, honey gold, honey hot and honey extra hot. They're all delicious in their own right, but the honey extra hot wings are a perfect balance of crispy sweetness and a tongue numbing heat that make you want to just keep eating. Make your order a combo and you'll be in hotwing heaven when you taste the undisputed best seasoned fries ever.
1264 Getwell, +1 901 743 5545, facebook.com/chingshotwings. Open Mon-Sat 11am-10pm, Sun noon-6pm
Kooky Canuck – Holy Smoke Burger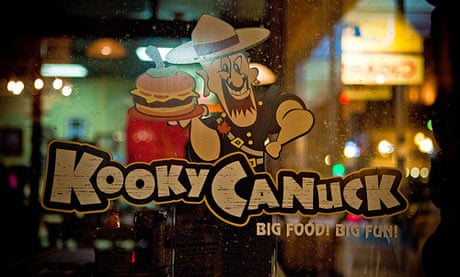 Only a "Kooky Canuck" would place a half-pound seasoned burger patty into a pool of spicy "Holy Smoke" hotwings sauce, top it with smoked cheddar cheese and fried jalapeños and serve it on a homemade brioche bun with a huge portion of hand-cut fries. Be warned though, the Holy Smoke Burger is not for the sensitive palette. This burger brings the heat and delivers a punch packed with so many flavours and textures, you can't help but fall in love with the spicy side. Just make sure you save room for the signature Deep Dish Cookie à la mode ($7.49) or SMores dessert ($6.99).
97 South 2nd Street, +1 901 578 9800, kookycanuck.com. Open daily 11am-2.30am. Holy Smoke burger $9.79
Memphis Dawgs – The Memphis Original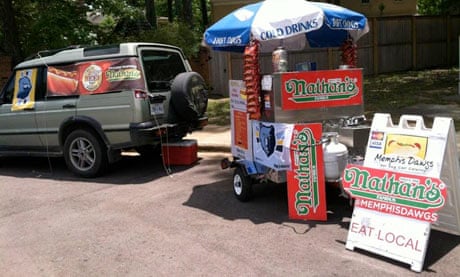 There's a hotdog cart in Memphis known as Memphis Dawgs. The owner moves around a lot so, to find him, you have to follow him on social media. Once you've found him, you'll be a fan and a friend for life. This is the hotdog you wish your momma made. It's a big, 100% all-beef, quarter-pound Nathan's hotdog served on a steamed bun. Go with the signature Memphis Original. It's a Memphis Dawg topped with a creamy slaw, chopped onion, homemade sweet and tangy barbecue sauce and celery salt. The combination of flavours works so well together that before you know it, you'll find yourself ordering a second or even a third Dawg.
facebook.com/MemphisDawgs, twitter.com/MemphisDawgs
Uncle Lou's Fried Chicken – Sweet Spicy Love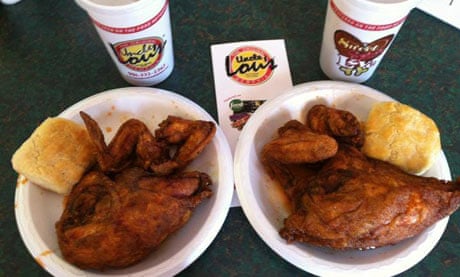 There's a lot of great fried chicken coming out of the south, but the total package can only be found at Uncle Lou's Fried Chicken. Not only is the chicken fried to a tender and crisp perfection, it's then dipped into the most amazing sauce Uncle Lou calls Sweet Spicy Love. It's like hot sauce meets honey barbecue meets the heavens. There's nothing like it. It turns good fried chicken into the something so amazing you'll be a satisfied customer for life. Get at least two honey-buttered biscuits to go with your chicken.
3633 Millbranch Road, + 1 901 332 2367, unclelousfriedchicken.com. Open Mon-Thurs 11am-8pm, Fri-Sat 11am-10pm, Sun noon-6pm. Three pieces of chicken from $5.48
The Half Shell Restaurant – Old Fashioned Monte Cristo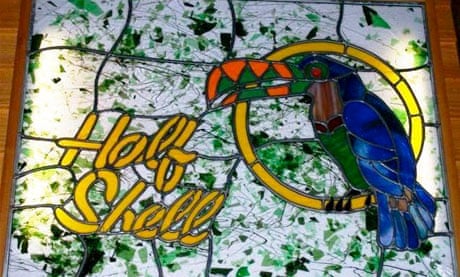 What could you do to make a sandwich better? Fry it, of course! That's exactly what The Half Shell Restaurant does to its old-fashioned Monte Cristo sandwich. This masterpiece sandwich is made with thinly sliced smoked ham, turkey and provolone cheese. It's then egg-battered, fried to a crisp golden colour, dusted with powdered sugar and served with honey mustard sauce for dipping. The outcome is a killer sandwich that'll tame even the hardiest of appetites and the nastiest of hangovers. When it comes to ordering a side, make sure it's the hand-battered onion rings. They're thick, crisp and they don't disappoint.
688 South Mendenhall Road, +1 901 682 3966, halfshell-memphis.com. Open Mon-Sat 11am-3am, Sun 11am-2am. Old Fashioned Monte Cristo from $8.95
If you have a favorite burger that you think is Memphis' best and should be reviewed on Best Memphis Burger, please drop a note in the suggestion box. If you're interested in guest posting your favorite burger, send an email and let us know why.